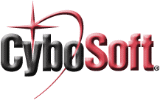 MFA Control Toolset for LabVIEW Demo CD Request
Thank you for visiting http://www.CyboSoft.com!
We appreciate you taking time to request an MFA Control Toolset for LabVIEW demo CD. Please tell us what you think of our website, products or how we can improve our service to make your next visit more useful and enjoyable.
Please email your Demo CD request to
To download our Process Information Worksheet click here (Microsoft Word ".doc" format)
We look forward to your comments.
CyboSoft Customer Support