CyboCon CE Instrument
The First General-Purpose Advanced Control Instrument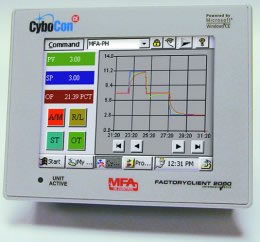 CyboCon CE combines the power of CyboSoft's MFA control technology and Microsoft's Windows CE real-time operating system. Embedded in GE Fanuc's FactoryClient 2000 Industrial CE Platform, it can control industrial problematic loops and does not require process models, identification, controller design, nor complicated controller tuning.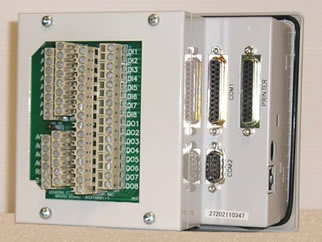 Quote from CyboSoft Partners:

"Microsoft is pleased to see CyboSoft implementing it's Model-Free Adaptive Control technology on the Windows CE platform, providing the process industry a powerful advanced control solution in a compact industrial instrument." - Scott Fawcett, Global Process Manufacturing Industry Manager, Microsoft Corporation.

of CyboCon CE:

Model-Free Adaptive (MFA) Controllers in CyboCon CE:
• SISO MFA Controller to replace PID and eliminate manual tuning,
• Nonlinear MFA to control extremely nonlinear processes,
• MFA pH controller to control pH processes,
• Anti-delay MFA to control processes with large time delays,
• Anti-delay MFA pH controller for pH processes with large time delays, and
• Robust MFA to force the process variable to stay within defined bounds,
• Feedforward MFA to deal with measurable disturbances,
• Time-varying MFA to control time-varying processes.
System Features:
• 8 Analog Inputs and 4 Analog Outputs of 4-20mA or1-5V standard signals
• 16 digital I/O's
• Control limits and alarms
• Real-time and historical trends
• Easy user configuration
• Rigid industrial enclosure
• Flat panel color display
• Touch screen interface
• Microsoft Windows CE
• Applicable to all process industries.
• 6 inch panel mount
• NEMA 4X touch screen and bezel
• UL and TÜV approved components

Models:

CCCE-01 CyboCon CE Single Loop MFA Controller
CCCE-02 CyboCon CE Dual Loop MFA Controller
CCCE-03 CyboCon CE Triple Loop MFA Controller
CCCE-04 CyboCon CE Quad Loop MFA Controller
CCCE-01E CyboCon CE Enhanced Single Loop MFA Controller
CCCE-02E CyboCon CE Enhanced Dual Loop MFA Controller
CCCE-03E CyboCon CE Enhanced Triple Loop MFA Controller
CCCE-04E CyboCon CE Enhanced Quad Loop MFA Controller
(Enhanced versions include network interface to CyboSoft's OPC Client software for 2 way communications between CyboCon CE and any OPC Servers on PC)