CyboEnergy Wins Frost & Sullivan's 2013
Global Product Differentiation Excellence Award in Solar Inverters
December 5, 2013 - CyboEnergy, Inc., (Rancho Cordova, CA), announced today that it is the recipient of Frost & Sullivan's 2013 Global Product Differentiation Excellence Award in Solar Inverters. The award recognizes CyboEnergy's innovation of CyboInverter, a Mini-Inverter, compared with Central Inverters and Microinverters. CyboEnergy will be presented this award at Frost & Sullivan's "2014 Excellence in Best Practices Awards Gala" to be held in New Orleans, Louisiana USA, on January 14, 2014.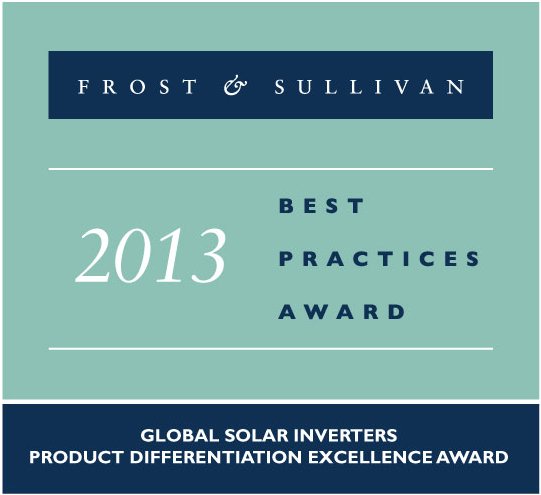 CyboEnergy CEO Dr. George Cheng said, "We are very proud to receive this prestigious award, which can be considered a milestone in our journey to help build a cleaner and greener world. Frost & Sullivan is the most well respected market research company in the world. Our customers, partners, shareholders, and team members will be pleased with this latest recognition."

CyboInverter is a patent-pending solar power Mini-Inverter possessing the key merits of both Central Inverters and Microinverters. CyboInverters offer grid-flexibility with both grid-tie and off-grid CyboInverters in the same product family.

Each year, Frost & Sullivan presents this award to the company that has developed a product with unique features and functionality as well as high quality for customers with complex needs. The award lauds the degree of the products customization and the fit for evolving market trends, which ultimately results in a strong brand perception of the product as being unique. For Frost & Sullivan's news release, please click here.
For the Product Differentiation Excellence Award, five criteria were used to benchmark CyboEnergy's performance against key competitors: (1) Unique Features/Functionality, (2) Quality/Complexity, (3) Customization, (4) Matched to Target Markets Needs, and (5) Brand Perception and Uniqueness of the Product. Frost & Sullivan Industry Analyst Gautham Gnanajothi said, "CyboEnergy's commitment and dedication in the field of solar inverters is highly commendable. Frost & Sullivan's independent analysis of the Solar Inverter market clearly shows that the company has leveraged its technical expertise to develop an innovative product - the CyboInverter, which Frost & Sullivan firmly believes will revolutionize the industry. CyboEnergy has been highly successful in providing product differentiation with its new CyboInverter and has designed it in a way to meet the end user needs. The company's efforts to constantly deliver clean energy products to benefit the users across the globe are highly commendable."
"While celebrating this award, we cannot forget why we are doing all this work. In this modern world, there are still 1.5 billion people, about one-fourth of the population, living without electricity. We are obligated to provide cost-effective solar power products and solutions to help them out," Dr. Cheng added.

To address this need, CyboEnergy has released 10 off-grid CyboInverters based on specific electrical standards to serve the global market. Most commercially available off-grid solar inverters have to take input power from batteries making the system more complex and less efficient. The off-grid CyboInverters offer a flexible, scalable, cost-effective, battery-less, or battery-enabled off-grid solar power solution to meet the needs of a broad range of users, especially those living without access to grid power.

About CyboEnergy and CyboSoft
CyboEnergy is a subsidiary of CyboSoft, General Cybernation Group Inc., focusing on the development, manufacturing, marketing, and services of the product lines in the energy and clean energy field. Founded in 1994, CyboSoft is the leader in control technology serving the worldwide process control, building control, and equipment control markets.

For more information, please contact: CyboEnergy, Tel: (916) 631-6313, e-mail: Mary Lou Davis, mldavis@cybosoft.com, Web site: www.cyboenergy.com.

_______________________________

Cybo, CyboSoft, and MFA are registered trademarks of CyboSoft, General Cybernation Group, Inc.
CyboEnergy and CyboInverter are registered trademarks of CyboEnergy, Inc.