CyboSoft Introduces Ultra High Speed MFA Controller
August 10, 2005 – CyboSoft (Rancho Cordova, California) today announced the delivery of an ultra high-speed adaptive control solution running on National Instruments CompactRIO embedded control and data acquisition platform. This special Time-Optimal Model-Free Adaptive (MFA) controller runs inside the FPGA (Field Programmable Gate Array) module of CompactRIO at 100KHz or 10 microseconds loop update rate including FPGA I/Os.

CyboSoft Chairman and CEO Dr. George Cheng said, "This is probably the fastest general-purpose advanced controller running on this planet. We are grateful to National Instruments for their support in making this ultra high speed MFA control system a reality."

CyboSoft has launched this special MFA controller in multiple applications including control of nano-positioners and piezo-motors manufactured by PI (Physik Instrumente). The recent success in controlling a magnetic levitation system has also demonstrated its capability to deal with problematic dead-zones and nonlinear behavior common to high-speed devices or equipment.

This high-speed MFA control solution is useful in many high tech areas including laser beam steering and alignment, wafer lithography and inspection, optical trapping in genetic engineering, Nanotech research, and magnetic levitation devices and systems. Users will gain the following benefits: (1) consistent control performance in all operating conditions, (2) elimination of controller manual tuning, (3) lower support costs, (4) safer high-speed operations, and (5) higher production throughput.

CyboSoft will demonstrate this MFA control system controlling a PI piezo-motor during NI Week 2005 (CyboSoft Booth 120 and 122) at Austin Convention Center, August 16 to 18.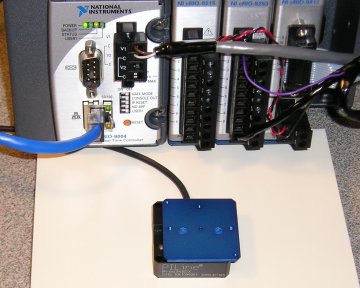 About CyboSoft
CyboSoft, General Cybernation Group, Inc., is the leader in control technology serving the worldwide process control, building control, and equipment control markets. CyboSoft's patented Model-Free Adaptive (MFA) control technology for automatically controlling physical processes is a major breakthrough. No other comparable technology possesses all the attributes of MFA.

CyboSoft's mission is to embed the appropriate MFA controllers in instruments, equipment, tools, software platforms, or automation systems of brand-name suppliers in targeted industries, application areas, or market segments. MFA controllers are replacing PID controllers on a very large scale and are also used for controlling those loops that are now in manual control. This revolutionary technology allows users to achieve significant advantages to better compete in this global economy.

For more information, contact: CyboSoft, 2868 Prospect Park Drive, Third Floor, Rancho Cordova, CA 95670 USA. Tel: (916) 631-6313, Fax: (916) 631-6312, e-mail: Info@cybosoft.com, Web site: www.cybosoft.com.
---

CyboSoft and MFA are registered trademarks of CyboSoft, General Cybernation Group, Inc. CompactRIO, LabVIEW, National Instruments, National Instruments Alliance Partner, and NI are trademarks of National Instruments.


---