CyboCon Dragon Advanced Micro DCS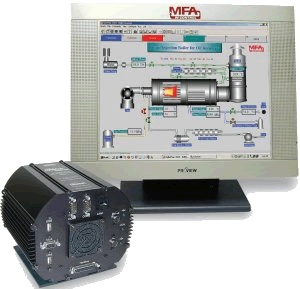 CyboCon Dragon is an Advanced Micro Distributed Control System (DCS). DCS is often referred to as the "dinosaur"; but when new technology like Model-Free Adaptive (MFA) control is added to the DCS, the dinosaur can evolve into a "dragon".
CyboCon Dragon is user-friendly, easy to install and maintain. It is an ideal control unit; light, micro, flexible, mobile, and complete. It works as a stand-alone black box, or with a keyboard and mouse, or via network from a PC. Control speed is up to 1 millisecond. Pre-loaded software provides a complete solution.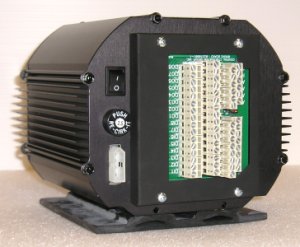 of CyboCon Dragon:

Software Included
Windows 2000 operating system,
CyboCon or CyboCon HS MFA control software,
CyboMax monitoring software,
CyboLog drivers for I/Os,
CyboLink HMI and OPC drivers.

Hardware Specifications
700 MHz CPU or better,
128 MB SRAM,
1 GB flash RAM disk or 10 GB HD,
High resolution graphics,
Power: 24 VDC (8-30 VDC),
8 AI, 4 AO, 16 DIOs,
Signal conditioning board,
Wiring terminals to 4-20mA/1-5V,
10/100 Base-T Ethernet,
2 serial, 1 parallel, 2 USB ports,
Typical size: 8"x7.5"x7.5",
Operating temperature: 32-140ºF
MFA Controllers Included
SISO MFA to replace PID and control simple to complex processes,
Nonlinear MFA to control extremely nonlinear processes,
MIMO MFA to control multi-variable processes,
Anti-delay MFA to control processes with large time delays,
Robust MFA to force the process variable to stay within defined bounds,
Feedforward MFA to deal with measurable disturbances,
MFA pH controller to control pH processes,
Anti-delay MFA pH controller for pH processes with large time delays,
Time-Varying MFA controller for processes with large process time
constant and delay time changes,
Flex-phase MFA to control open-loop oscillating processes,
MFA Trim Control to allow operators to manually adjust control outputs
while MFA is in Auto mode, and
Standard PID, dynamic blocks, logic blocks, and other calculation blocks.
CyboCon Professional Edition software may also include these special MFA controllers:
MFA XRT controller to control exothermal reactor temperature that also
has large time delays,
Anti-Inverse MFA controller to control processes that change signs or
acting types, and
Bi-directional MFA controller to control processes with distinct behavior
changes.