CyboSoft and PI to Unveil a Breakthrough in Piezomotor Control
at SEMICON 2007

SAN FRANCISCO ,Calif., June 28, 2007 – Physik Instrumente (PI) and CyboSoft today announced they will unveil a revolutionary new capability for the control of ultrasonic piezomotors at SEMICON West in San Francisco, Calif., July 17-19, 2007.
In a close collaboration between these technology leaders, a special implementation of CyboSoft's patented Model-Free Adaptive (MFA) control technology has been engineered to bring plug-and-play closed-loop operation to ultrasonic piezomotors with no servo tuning and with automatic, real-time adaptation to changing loads and motor dynamics. Performance is optimized and safe in all conditions, equaling or surpassing that of expertly-tuned, configuration-specific conventional servo technology but without sensitive and configuration-specific setup. Uncontrolled oscillation and runaway from mistuning are eliminated. Performance is quiet, smooth and precise.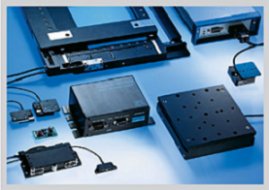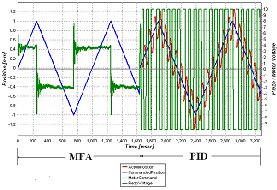 Ultrasonic piezomotors have tantalized engineers for decades. Their compact size, high speed, responsiveness, non-magnetic nature, vacuum compatibility, sub-micron resolution, in-position stability and energy efficiency held great promise for many demanding applications. They allowed the engineer to eliminate costly and bulky leadscrew and motor-coupling assemblies. And unlike ultra-resolution piezoelectric nanopositioning stacks, their travel was unlimited.

The piezomotor field has enjoyed considerable innovation, and many novel implementations have been introduced, including PI's patented, high-speed PIline motors. However, since linear piezomotor dynamics depart in subtle ways from those of common DC servomotors and can vary with usage, they have required sophisticated controllers and knowledgeable setup for best performance. Set up incorrectly or used with an inadequate controller, the motors could be noisy or perform sub-optimally.

The CyboSoft/PI collaboration has yielded a breakthrough in piezomotor control by eliminating the need for intensive servo setup as well as sensitivity to load. The custom MFA Tiger ™ control algorithm developed for PI's controllers provides stable, smooth, fast and precise performance from start-up and under all operating conditions.

Live demonstrations of the capability, featuring PI's piezomotor stages running stably with significant load changes, will be featured in CyboSoft Booth #8351 and PI Booth #6149 throughout the SEMICON West event.

See the MFA Tiger ™ control algorithm in action vs. PID on YouTube at http://www.youtube.com/watch?v=Jd4Gg-OvLwo

About Physik Instrumente (PI)

PI, a global market leader in the field of micro- and nanopositioning technology, has been developing and manufacturing standard, custom and OEM products with piezoelectric and motor drives for over 35 years. In addition to its three manufacturing centers in Germany, PI has a worldwide presence with eight subsidiaries and total staff of more than 400. Contact: PI (Physik Instrumente) L.P., 16 Albert St., Auburn MA 01501 USA, (508) 832-3456, info@pi-usa.us, www.pi-usa.us.

About CyboSoft

CyboSoft, the leader in control technology serving the worldwide process control, building control, and equipment control markets. CyboSoft's patented Model-Free Adaptive (MFA) control technology for automatically controlling physical processes is a major breakthrough. No other comparable technology possesses all the attributes of MFA. MFA controllers are replacing PID controllers on a large scale and are also used for controlling those loops that are now in manual control. This revolutionary technology allows users to achieve significant advantages to better compete in this global economy. Contact: CyboSoft, 2868 Prospect Park Drive, Third Floor, Rancho Cordova, CA 95670 USA. (916) 631-6313, info@cybosoft.com , www.cybosoft.com .


_______________________________
CyboSoft, MFA, and MFA Tiger are registered trademarks of CyboSoft, General Cybernation Group, Inc.
PI and PIline are registered trademarks of Physik Instrumente (PI) GmbH & Co. KG.