CyboSoft Delivers High-Speed and High-Precision Adaptive Control
For New National Instruments CompactRIO
September 14, 2004 – CyboSoft (Rancho Cordova, California) today announced the delivery of a high-speed and high-precision adaptive control solution running on the new National Instruments CompactRIO embedded control and data acquisition platform.

CyboSoft Chairman and CEO Dr. George Cheng said, "Our embedded MFA controllers running in NI LabVIEW Real Time on CompactRIO now offer the first general-purpose, high-speed, and high-precision adaptive control solution on the market."

CyboSoft, a National Instruments Alliance Partner, offers Model-Free Adaptive (MFA) Control Toolset software for NI LabVIEW. CyboSoft MFA controllers running in CompactRIO offer high-speed control loop rates (330 microseconds) and highly reliable I/O data precision (16-bit analog inputs and outputs). This performance and precision, which is crucial for high-end mission-critical control applications, was previously unattainable with off-the-shelf hardware.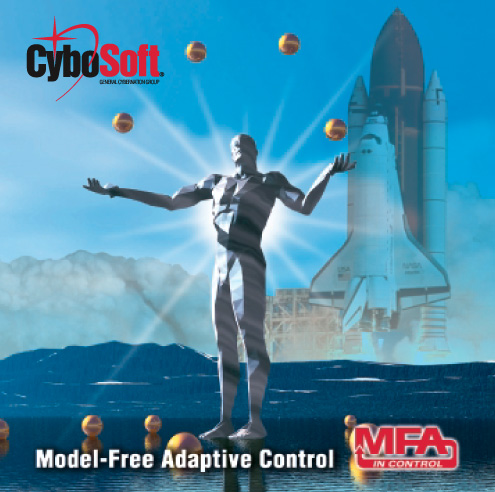 For the motion control industry, the CyboSoft MFA controller virtual instruments (VI) integrated with the new NI SoftMotion Development Module running in NI reconfigurable I/O (RIO) hardware now offer high-speed and high-precision adaptive motion control. NI SoftMotion includes functions for trajectory generation, spline interpolation, position and velocity PID control, and encoder implementation in LabVIEW Real-Time and/or the LabVIEW FPGA Module. This combined solution is the first general-purpose adaptive motion control solution able to deal with large Tau-T Ratio (Delay-Time/Time Constant Ratio) problems that exist in high-speed control applications in which mechanical delay cannot be avoided. Rahul Kulkarni, NI control product manager said, "NI RIO technology, NI SoftMotion, and MFA controllers replace the custom-built motion control hardware and drastically reduce the development time and cost of designing custom hardware."

Based on the core MFA technology, CyboSoft has developed a set of general-purpose MFA controllers, each of which solves a tough control problem. MFA controllers do not require process models that are difficult to develop and maintain. Once installed, no controller tuning is required. In most cases, MFA controllers can directly replace the legacy controllers such as PIDs and achieve immediate improvements in control performance resulting in significant economical benefits.


About CyboSoft

CyboSoft, General Cybernation Group, Inc., is the leader in control technology serving the worldwide process control, building control, and equipment control markets. CyboSoft's patented Model-Free Adaptive (MFA) control technology for automatically controlling physical processes is a major breakthrough. No other comparable technology possesses all the attributes of MFA.

CyboSoft's mission is to embed the appropriate MFA controllers in instruments, equipment, tools, software platforms, or automation systems of brand-name suppliers in targeted industries, application areas, or market segments. MFA controllers are replacing PID controllers on a very large scale and are also used for controlling those loops that are now in manual control. This revolutionary technology allows users to achieve significant advantages to better compete in this global economy

For more information, contact: CyboSoft, 2868 Prospect Park Drive, Suite 300, Rancho Cordova, CA 95670 USA. Tel: (916) 631-6313, Fax: (916) 631-6312, e-mail: info@cybosoft.com, Web: www.cybosoft.com.
---
CyboSoft and MFA are registered trademarks of CyboSoft, General Cybernation Group, Inc. CompactRIO, LabVIEW, National Instruments, National Instruments Alliance Partner, and NI are trademarks of National Instruments. National Instruments Alliance Partner Program members are business entities independent from National Instruments Corporation and have no agency, partnership or joint-venture relationship with National Instruments.